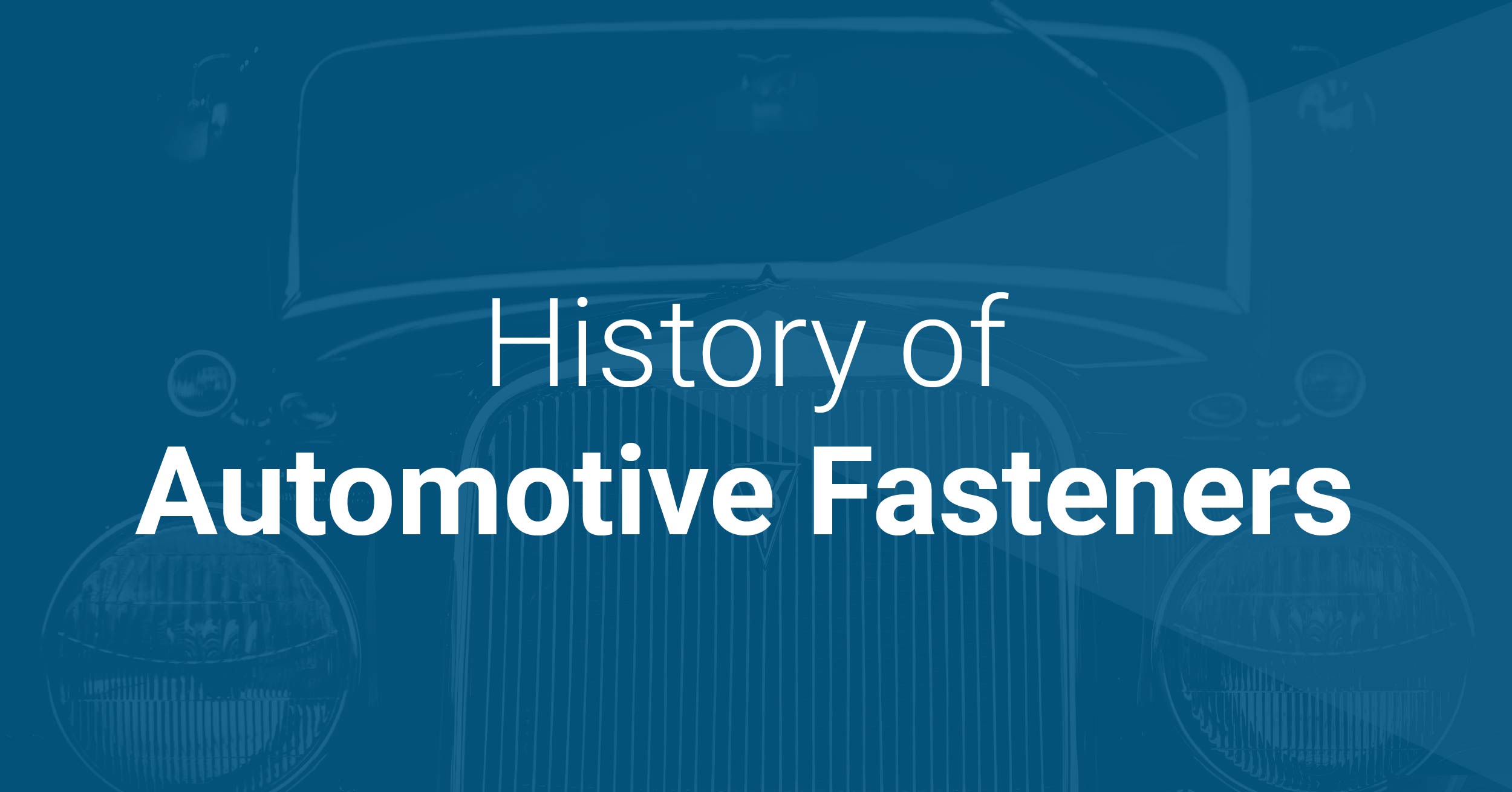 The History of Automotive Fasteners: How Mechanical Attachment and In-Die Installation Has Redefined the Industry
Author: Randy Hoffman
The history of automotive fasteners is a long and interesting one. It's the story of a product and process that has been changing constantly as the automotive industry has evolved.
In this article, we will take you on an informative journey through the past century (and beyond) of automotive fasteners and show how mechanical attachment and in-die installation have redefined the industry.
1900—1960: Vehicles are big and bulky, and so are automotive fasteners.
Originally, automakers and the public thought that big, heavy cars were safer. The nuts and bolts that fastened parts together were, in turn, big, bulky, and heavy—and they were attached with a welding process.
This began to change in the 1960s with new technology and materials. The shift toward lighter metals and smarter designs was driven by a demand for safer vehicles and better fuel economy.
No longer using thick, heavy steel, OEMs started developing designs with thinner, stronger metals. This forced manufacturers to innovate their automotive fastening solutions, as well.
In the 60s, our UMP nut (developed by Multifastener, now PROFIL) had to adapt to the thinner metal designs.
The UMP nut was too thick. The part of the nut that went into the metal was thicker than the metal itself. In order to create a clamp joint, the process required an offset—an emboss in the sheet metal to offset the pilot of the nut.
This worked until the metal got increasingly thinner and manufacturers no longer wanted to deal with the offset process.
There had to be a better way.
1960—1970: Introducing the High-Stress Nut
Around the late 60s, early 70s, the high-stress nut was developed. It's still one of PROFIL's biggest sellers to this day.
The innovation behind the high-stress nut was that it was a nut with a built-in offset.
In addition, the HS nut and UMP nuts were put onto reels using knurled wire into the top side of the nuts. This innovation eliminated the need for a feeder to get the nuts into the die tooling, thus saving the cost of the feeder and the floor space used by a feeder.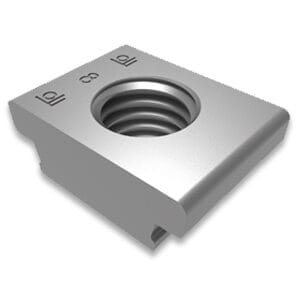 UMPTMself-piercing clinch nut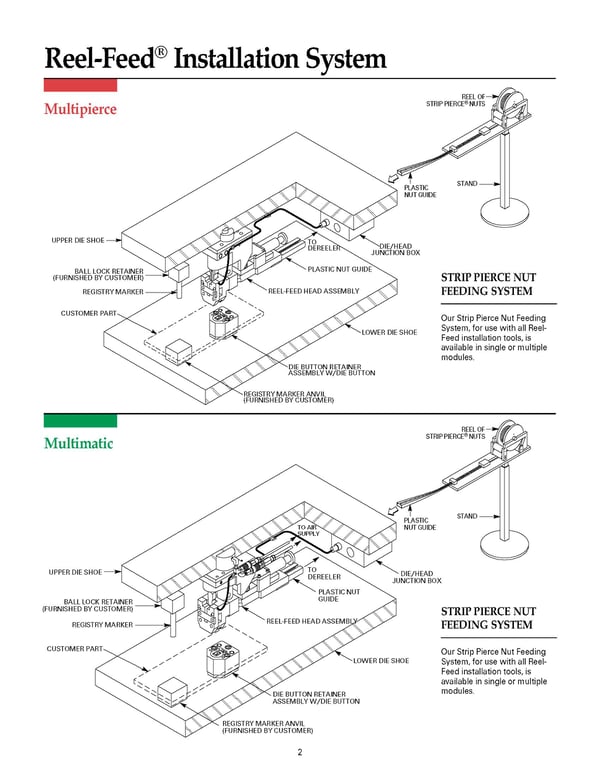 Reel-feed installation system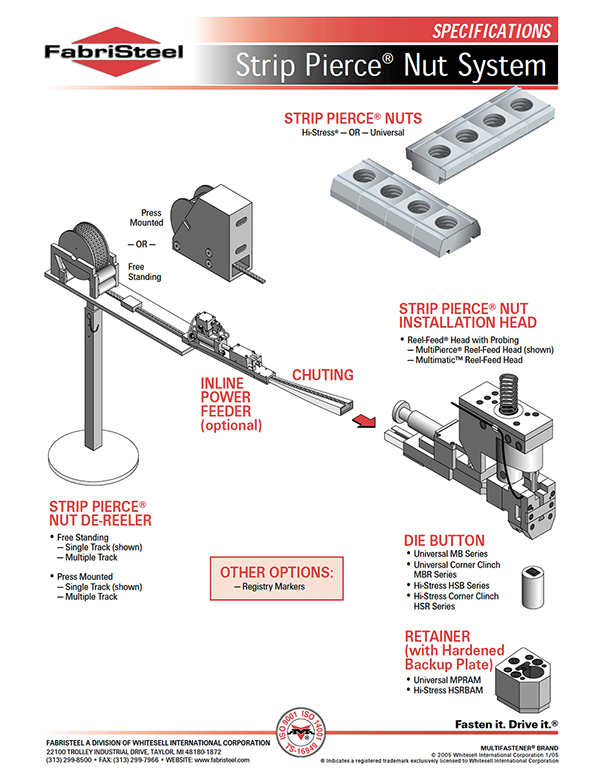 Strip system
1980-1990: Pierce Fasteners
At this time, the company developed a pierce fastener that eliminated many of the quality and cost issues associated with weld fasteners.
This innovative fastener used an in-die process where the nuts were mechanically attached to a variety of pre-finished panels, rather than welded and stamped. This eliminated costly and time-consuming secondary operations involved in traditional weld processes.
Welding processes are accompanied by other problems such as noxious fumes, weld spatter, cold welds, perpendicularity problems, process variability, or degradation of base metal or its protective plating.
Pierce fasteners were a major game-changer in the industry. They were precursors to the Mechanically Attached Fasteners we have today.
Today and Beyond: Fasteners that help automakers do more.
Just like modern-day cars bear little resemblance to the Model T, the automotive fasteners of today are nothing like their bulky predecessors. Today, we know that reliable and cost-effective Mechanically Attached Fasteners (MAFs) offer a superior alternative to welding and use innovative, clean installation processes. See our Product Catalog and CAD Download Library.
Now, more than 18 Billion MAFs are installed annually. The world's leading OEMs don't just need fasteners, they need solutions that will help them continue to develop highly engineered automotive applications into the future.
For example, at PROFIL we offer a closed-loop solution that includes Technical Advisory at OEM and Tier, Manufacturing, Application Engineering Support & Tooling Design, and After Sales Technical Support.
We're proud to be part of this history of developing automotive fasteners that are helping the world's leading OEMs do more.
The history of the world's premier global manufacturer of Mechanically Attached Fasteners
The history of the American company that began as Multifastener and is now PROFIL is also an interesting one. When our customers reference any of these companies, we say "Yes, that's us!"
U.S. Company Timeline:
1940s - 1998: Multifastener
1998 - 2004: Fabristeel
2004 - 2017: Whitesell
2017 - Present: PROFIL
About: PROFIL® (a PennEngineering ® company) is the world's premier global manufacturer of Mechanically Attached Fasteners (MAF), an alternative to traditional weld fasteners, for the automotive industry.
If you need to cut costs, improve performance, and become more efficient, please take advantage of the cost comparison breakdown we provide inside our MAF Info Sheet.
Tags
ABOUT US
PROFIL® (a PennEngineering ® company) is the world's premier global manufacturer of Mechanically Attached Fasteners (MAF), an alternative to traditional weld fasteners, for the automotive industry. For over 50 years, PROFIL® has partnered with the world's leading automotive OEMs to develop and engineer high integrity, cost-effective joining solutions for a wide range of demanding vehicle applications.
Ready to ditch the frustration of inferior fasteners?