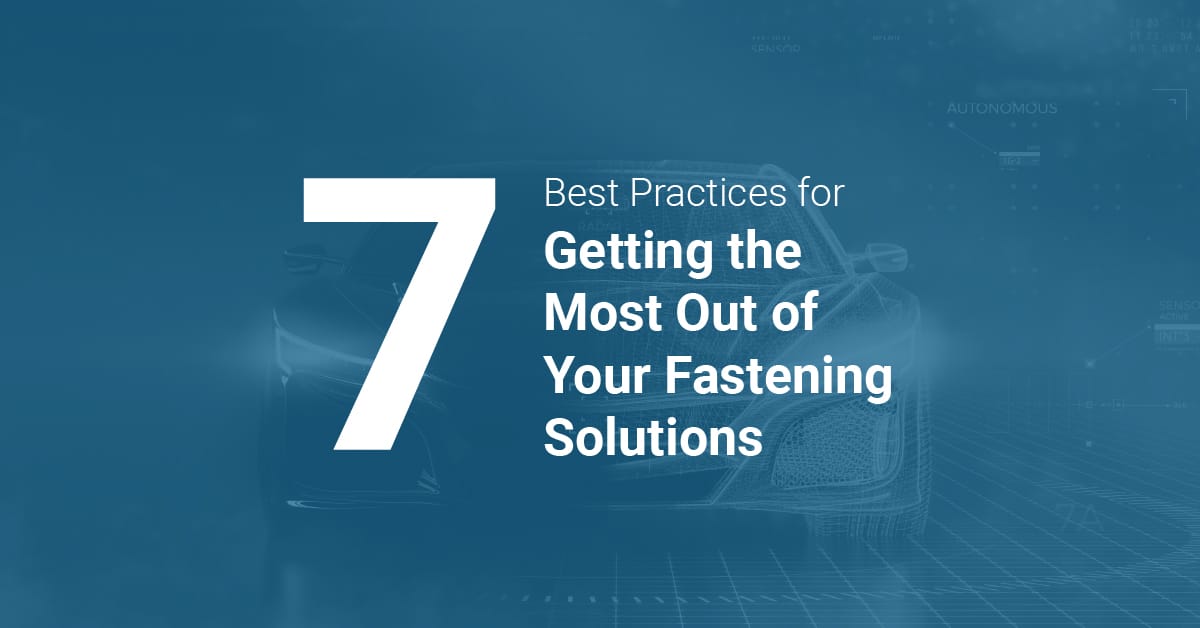 7 Best Practices for Getting the Most Out of Your Fastening Solutions
Author: Josh Green
Our favorite best practices related to automotive fastening solutions
In any field, and automotive engineering is no exception, best practices inform and guide how we work and produce outcomes. Without them, steering your team and operation in the right direction becomes increasingly difficult.
Best practices offer you several benefits.
They identify and address key knowledge gaps
They enable solid decision-making
They directly impact the efficiency of your operation
They become a true north everyone can refer back to
They boost creativity (more on that in a minute)
They make great results repeatable so you can scale
The reality is these ideas are likely nothing new for you. If you're like many of the OEMs and fabricators we've worked with, you and your engineering team spend valuable time and energy establishing and optimizing your own internal best practices.
However, "boosting creativity" usually doesn't make the top of the list because it's easy to fall into the trap of viewing automotive fastening best practices as a set of limitations–not inspiration.
We believe that the most creative fastening ideas are formed within the context of foundational best practices that effectively channel and spur greater innovation.
7 best practices for using automotive fasteners
No matter what type of fastening solution you employ, we know how critical they are to the success of your operation. With that in mind, here are several best practices we have learned and refined over the last half-century of doing business with leaders like you.
Utilize standard parts when possible: Not only does this offer you cost savings, but it increases versatility too. Here at PROFIL®, for instance, our portfolio covers various grades and materials, which means one of our parts can serve various purposes for you as the end-user.
Lean on the value of a solid feasibility analysis: Timely solutions are paramount when you have a problem. Conducting a full analysis ensures your parts resolve problems fast.
Don't use parts that are not water-tight: Water intrusion is a problem that's best to avoid. If it's not mechanically-fastened, many weld fasteners run the risk of not maintaining a water-tight seal.
Find a partner who provides timely quotes: It's unfortunate, but time and time again, we speak with engineers who see deadlines expire and projects become delayed all because they didn't have what they needed on time. We know how critical a quick turnaround is. That's why we provide standard existing part quotes in three business days or less. Plus, if it's a non-existing part, we strive to turn around those quotes in fifteen business days or less. Ready to request a quote? It all starts with talking to one of our engineers.
Aim for in-die installation: Not only does this process save time, but it also costs less over time and simplifies the complexity of your processes.
Avoid joints weakened by heat: Any weakness around crucial automotive joints decreases the likelihood of that part achieving full life expectancy. Many traditional fasteners struggle to perform under those higher temperatures.
Ensure you can easily fasten dissimilar materials: Unfortunately, many traditional weld fasteners face problems when trying to fasten two opposite materials. This limits your ability to stay creative and drive innovation forward.
Mechanically Attached Fasteners (MAF)–the solution built on proven best practices.
We knew traditional weld fasteners were not holding up to the needs of our automotive clients. In short, each of the best practices we've covered became the bedrock that helped us design mechanically attached fasteners.
The results? Our clients are routinely achieving significant cost savings (30% in some cases!)
Mechanically attached fasteners are the cornerstone of what we call The PROFIL® Advantage.
How do we break down what that advantage is?
MAFs are designed by our team of engineers to streamline your process and improve quality and reliability through a consultative partner you can trust.
We realize calling anything a superior alternative sounds like a pretty bold claim, but with mechanically attached fasteners, it's proven to be true because we provide:
Standard parts that simplify processes
Feasibility analysis that gives you answers
In-die installations that lower costs
100% vision-sorted shipments of all products so everything arrives ready to go
Fasteners that don't encounter issues with dissimilar materials
Water-tight seals that prevent water intrusion
Stronger joints with no heat-related weak points
Timely quotes and one point of contact to help you make informed decisions
MAFs with reduced weight that maintain similar performance
Plus, we take pride in offering comprehensive support from training and tech support all the way to applications engineering.
Over the last fifty years, we've partnered with many of the world's leading automotive OEMs to install billions of fasteners annually.
Our goal is all about helping you ditch the complexity of traditional weld fasteners. Ultimately, we believe you deserve to be empowered to design and manufacture mechanically attached fasteners that perform well for your highly engineered automotive applications.
If you need to cut costs, improve performance, and become more efficient, please take advantage of the cost comparison breakdown we provide inside our MAF Info Sheet.
Tags
ABOUT US
PROFIL® (a PennEngineering ® company) is the world's premier global manufacturer of Mechanically Attached Fasteners (MAF), an alternative to traditional weld fasteners, for the automotive industry. For over 50 years, PROFIL® has partnered with the world's leading automotive OEMs to develop and engineer high integrity, cost-effective joining solutions for a wide range of demanding vehicle applications.
Ready to ditch the frustration of inferior fasteners?